YouTube offers options for viewers on different devices, but some may be better than others. For those who prefer to watch the videos on TV, the platform announced that it will reinforce advertisements, increasing the duration time. In addition, the company is testing to bring advertising even when content is paused.
For those who frequently watch YouTube on TV, whether through a device or the device itself, it is possible that you have noticed a greater insistence of ads. Often, longer advertisements that cannot be skipped end up appearing, for example. The platform also removed the counter that used to appear indicating that an advertisement would interrupt the video.
However, the company will further reinforce this practice for CTV users (connected TVs).
According to a post on your blog, YouTube has stated that it will begin offering 30-second commercials that cannot be skipped. They will replace the current 15-second ads, but for now only on YouTube Select, which is a tool for brands to choose popular channels to advertise on.
Another novelty will appear when the viewer pauses a video. The content will shrink in size to make room for an ad on the right side of the screen. This experience will be "perfect for viewers and allow them to learn more about the brand," according to the company. However, there will be a button for the person to ignore the advertising, as we can see in the image below.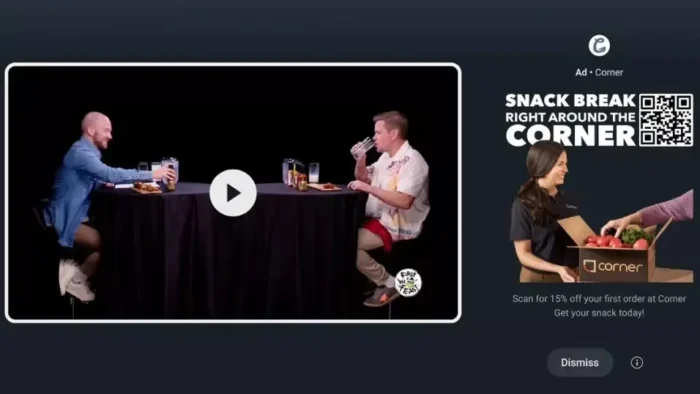 YouTube Premium may be the way to go
With the increase in the frequency of advertising for those who watch the video platform on a TV set or through a device such as Roku or Amazon Fire Stick, the Premium model becomes more interesting.
YouTube has already started blocking ad blockers, making it difficult for people to escape commercials. Here at home, for example, we ended up opting for the subscription, since my daughter really likes to watch the episodes of Monica Toy. It had become impossible to let her enjoy 10 minutes of content without more than one advertisement interrupting her.
It's also worth noting that YouTube had lower advertising revenue year-over-year, down 2.6%, according to financial results from Alphabet, which owns Google. That may have spurred the company to step up its efforts with partners and other brands.
Even without informing when the news will arrive, the platform ends up highlighting to users that commercials will increase and they have nowhere to run. Unless you open your wallet and subscribe to Premium.
With information: TechRadar.