As of this Tuesday (11), users of the Whatsapp in Brazil you can use the service to make payments to small businesses. The feature is a way to improve the experience of buyers and sellers who already closed deals on the platform, but had to resort to other means to complete the transaction.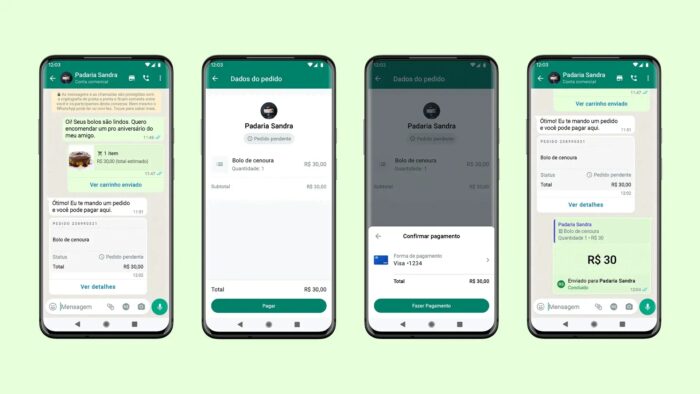 Pizzerias, pharmacies, markets, stationery stores and small clothing stores are among the many businesses that already accept orders via WhatsApp. In addition to allowing a more personalized service, the messaging service makes it possible for purchases to be negotiated without the fees charged in applications such as iFood.
Releasing payments was what WhatsApp needed to become a complete buying and selling tool. The feature was expected at least since March, when the Central Bank authorized financial transactions via WhatsApp Pay.
Today, the feature officially went into operation in Brazil, and was even announced by Mark Zuckerberg:
How does WhatsApp payment work?
To begin with, the user must have a debit, credit or prepaid card issued by one of the participating institutions. Among them are:
Bank of Brazil: Visa
Banco Inter: Mastercard
Bradesco: Visa
BTG+: Mastercard
Cash: Visa virtual debit card
Mercado Pago: Visa
neon: visa
Next: Visa
Nubank: Mastercard
Santander: Mastercard and Visa
Sicoob: Mastercard
Sicredi: Mastercard and Visa
Woop (Sicredi digital account): Visa
To register the card, just open the WhatsApp settings and, under Payments, add a payment method.
Interested companies must use WhatsApp Business and link their account to a compatible payment partner, such as Cielo, Mercado Pago or Rede. After that, just create an order to receive payment from a customer.
According to WhatsApp, registered card numbers are encrypted and stored securely. For each transaction, the user has to inform a payment PIN (personalized code).
WhatsApp does not charge fees to users or participating companies. However, fees may be charged to businesses by payment partners.
Only in Brazil
For now, the novelty is only available in Brazil. However, the resource is being gradually released to companies. In this initial phase, only some of them have access to the modality.
WhatsApp explains that the payment service is maintained by the Meta Pay platform (formerly Facebook Pay), but that all transactions are processed by partner institutions.
In a way, payments for small businesses are an extension of financial transactions between individuals on WhatsApp, which started working timidly in 2021.