The LiDAR scanner is a type of depth sensor that performs precise 3D mapping using laser pulses. It can be found in smartphones, self-driving cars, drones and augmented reality devices.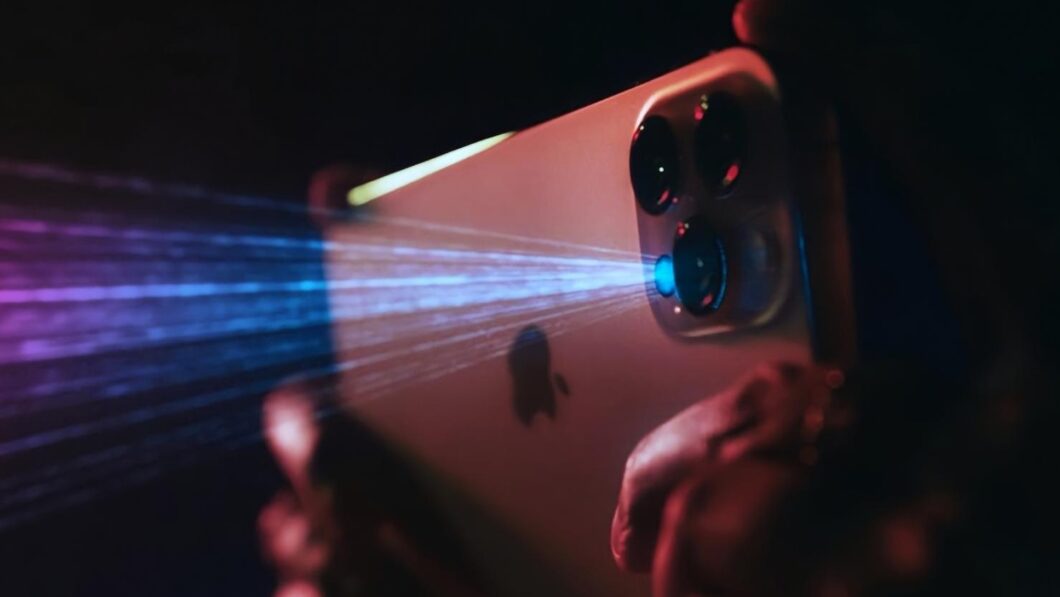 The acronym "LiDAR" stands for "Light Detection and Ranging". The fourth generation iPad Pro was the first with a LiDAR sensor built into the rear camera; the first cell phones with the technology were the iPhone 12 Pro and Pro Max.
How the LiDAR sensor works
The LiDAR sensor emits pulses of light that hit objects, and detects pulses that are reflected back. It measures the time interval that the pulse takes to make this path, and thus calculates the distance in relation to the object.
The scanner repeats this process millions of times per second, generating a point cloud with date, time and location. This is used to create a real-time 3D map of the environment with accurate spatial information.
LiDAR devices have these four main elements:
laser emitter: emits infrared light pulses that spread throughout the environment;
scanner: distributes the laser beams, and regulates the speed and distance with which they scan the environment;
LiDAR sensor: detects light, recording each pulse that is reflected back to the device, to measure depth of field;
GPS: tracks and records the location of the LIDAR system, and uses satellite data to validate distances between objects.
LiDAR can "see" in 3D under all types of light, because it has its own light source. The sensor often sits alongside traditional cameras, which only produce 2D images of the environment, and which are affected by bright sunlight, darkness and reflections.
The operation of the LiDAR sensor is similar to that of a radar: both calculate distances by emitting a signal and measure how long it takes to return. The big difference is that LiDAR uses light waves, while radar emits radio waves.
LiDAR generates 3D images with more detail, but has a range that varies from 4 m to 45 km away. Meanwhile, radar produces less accurate depth maps, but can detect objects within a radius of up to 500 km.
LiDAR vs ToF
LiDAR is a type of ToF sensor that has a scanner to distribute laser beams. Every ToF depth sensor uses "Time-of-Flight" measurement to calculate the distance to an object: this technique involves emitting light waves and calculating how long they take to be reflected back.
The main advantage of LiDAR over other ToF 3D sensors is the greater range: from 4 m to 10 m indoors, up to 200 m in autonomous cars, and 1 km to 45 km in space applications, as explained by the Swiss university EPFL.
The LiDAR sensor tends to cost more than ToF 3D alternatives: it requires more complex components, in addition to more precise laser technology.
From cell phones to the automotive sector: the applications of the LiDAR scanner
Cell phones and tablets: LiDAR is built into the rear camera of iPhone and iPad Pro models, allowing for faster autofocus, especially in low light, and offering more precision for augmented reality apps via ARKit;
Vacuum robots: LiDAR makes a more precise mapping of environments, so the vacuum cleaner does not "swallow" small objects on the floor – the technology is in Samsung Jet Bot+ and Jet Bot AI+;
smart cars: LiDAR scanners map the world around and help with vehicle automation, with cars driving with less human supervision;
Public security: LiDAR can be used in the same way as a speed camera, and can map urban areas to plan police or military operations;
Astronomy: NASA uses LiDAR on the Ingenuity helicopter to safely maneuver it across the surface of Mars;
Mapping: LiDAR systems collect three-dimensional measurements of land (topography), buildings (architecture), highways and indoor environments;
Environment: laser scanning with LiDAR allows mapping risks of flooding, coastal erosion, and carbon stocks in forests;
Physics of the atmosphere: the sensor helps collect weather data and detect types of particles in the air.
Limitations of the LiDAR sensor
Cost: LiDAR systems are more expensive than other techniques for measuring depth, such as ToF 3D sensors;
Images without color or texture: it can be difficult to interpret LiDAR data without superimposed images from a traditional camera;
Interference: the device may interfere with other nearby LiDAR sensors if they scan the same area at the same time;
atmospheric noise: Airborne debris that gets between the light transmitter and the object can affect distance measurements.