Meta is close to launching its short message application. According to journalist Lia Haberman, Mark Zuckerberg's company has already introduced its Twitter rival to content creators. Haberman published an image of the presentation slide in her newsletter.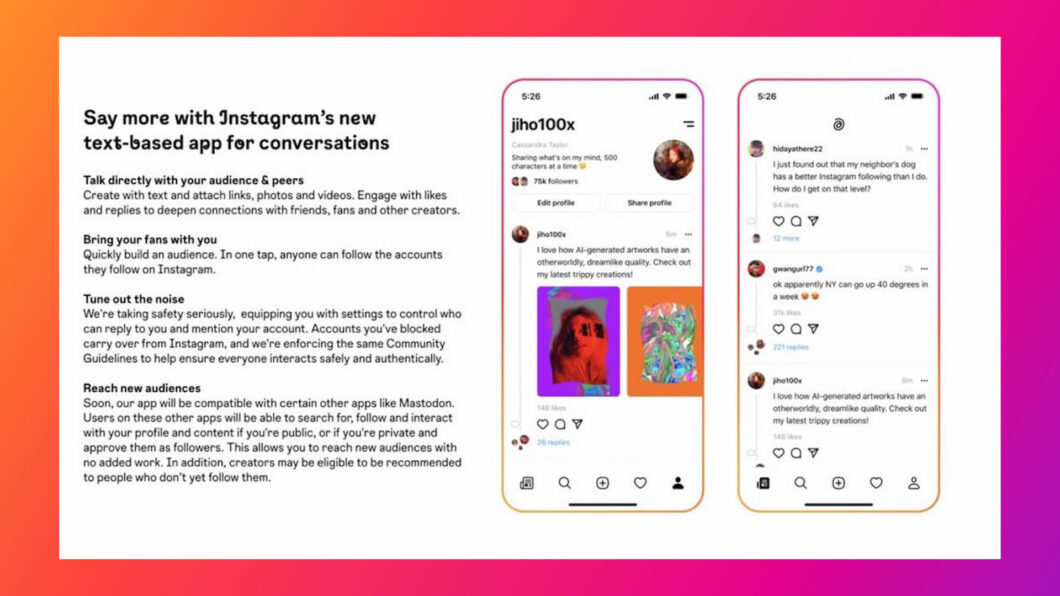 Project 92, also codenamed Barcelona or P92, has been fanned for some time among the tech world. The application will follow the idea of ​​microblogging created by Twitter in 2006. The slide released by the American journalist reveals the layout and proposal of Meta with the app.
Zuckerberg's "Twitter" is based on Instagram
Meta's next social network, whose launch date is next June, will be based on the Instagram system. It will be a separate app from the photo and video social network. Meta's new product slogan is "Instagram for your thoughts".
The "architecture" of Instagram is so present in Project 92/Barcelona that Meta didn't bother to change the like, comment and direct message icons. And yes, the feed layout is identical to Twitter. However, you can write up to 500 characters — and upload images, photos and videos of up to 5 minutes.
As it is completely based on Instagram, Project 92 login will use the same credentials as the image social network — practicality. Bio, at and their followers will be extracted from Instagram. As well as blocked accounts and muted words. In short, what you did and do on your Instagram account will go to Project 92.
The presentation image also shows an interesting and "friendly" feature, in the sense that there will be integration with other social networks. Users on other platforms such as Mastodon will be able to search for, follow and interact with accounts on Project 92.
With information: Lia Haberman It is The Verge