There are many tools for working as a team, but sometimes it can be difficult to find where certain information has ended up. Slack will try to organize this a bit with Canvas, which creates documents to share with your team.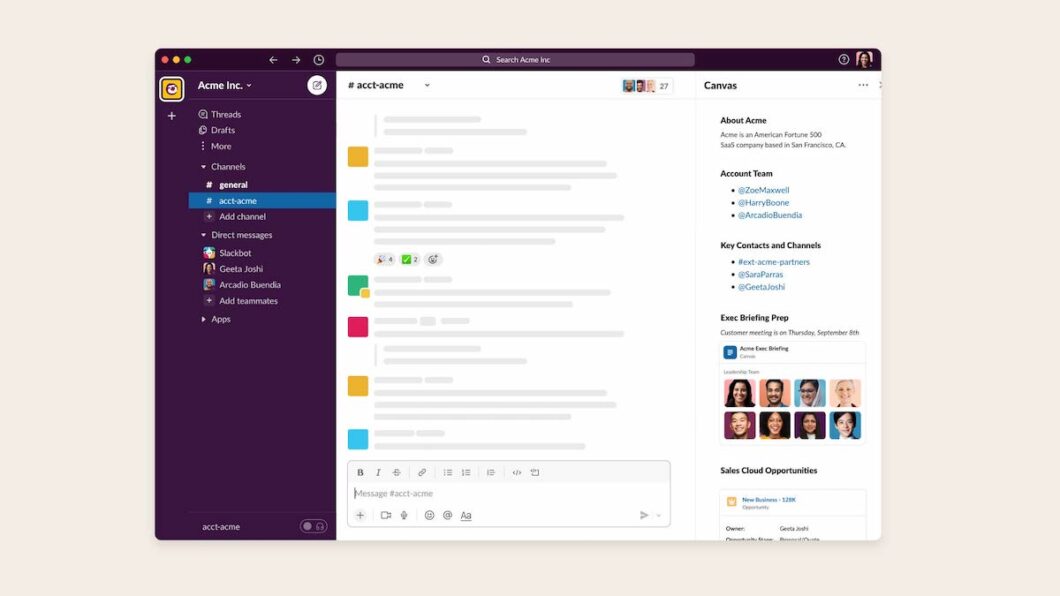 Canvas lives in chats, but in a separate place from messages. You can place links, images, texts, apps and even app functions, such as service requests. You can also add comments and view the history of changes.
Speaking like that, it may seem complicated. O Verge There's a simpler explanation: think of Google Docs inside Slack. From the images, I'd say it's more like Notion than Docs, but the idea is this: a space to create documents and pages with different elements.
So you can write an FAQ, develop a guide for new employees or list links to used tools, for example. Everything is available to the team, without having to search the chat history or resort to another platform.
Currently, the solution for this within the app is to pin some messages, or put them in favorites.
For companies where Slack is a central part of their workflow, Canvas might even make more sense than Docs at times.
Sharing, for example, is easier, since you can mark the channel you want to share the Canvas with — simpler than hunting down everyone's email.
Slack Canvas Looks Like But It's Not Google Docs
Despite the comparison, Slack says Canvas isn't going to try to replace Docs or other such tools.
For Ali Rayl, senior vice president of the company, Canvas is a flexible space, but Google Docs continues to have 100% of its importance. Part of that is because Canvas doesn't offer as advanced formatting options, for example.
Even so, by bringing together a feature that would previously have depended on a second app, Slack becomes more competitive in the market and more practical for businesses. The platform has been doing this for some time with Circles or Huddles, which offer group audio and video calls.
Little by little, the group messenger is becoming a more complete work center.