A Search Game Brasil (PGB) reaches its tenth year of existence in 2023. In this edition, the numbers show a belief that the Brazilian games sector can offer interesting career opportunities for those who want to enter the area. In addition, cell phones continue to dominate as the most used platform for gaming, ahead of consoles and PCs.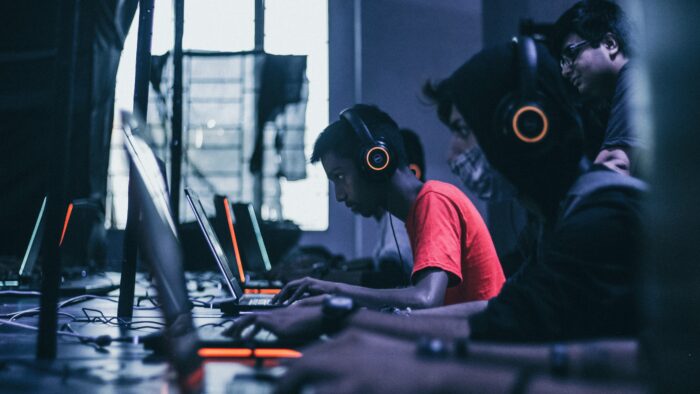 The survey interviewed 14,825 people in total, from 26 Brazilian states and the Federal District, including São Paulo and Rio de Janeiro. One of the main innovations in this edition is a panel on the labor market, which asked about the public's expectations regarding working with games.
According to the study, 58.3% of players believe that the games sector in Brazil offers good career opportunities in the area, 15.5% disagree, while 17.5% are indifferent. The areas most mentioned as job options were game content creation (68.3%); publishing or marketing (68%); programming (66%); visual effects (65.7%); and art, illustration or animation (65%).
Critically and popularly successful titles such as Horizon Chase Turbo from Porto Alegre Acquiris Game Studios and Dandara from the Long Hat House studio in Belo Horizonte can be recent examples of inspiration. If you want to know some more examples, check out 10 Brazilian games to download for PCs and consoles.
Smartphones remain the main object of gambling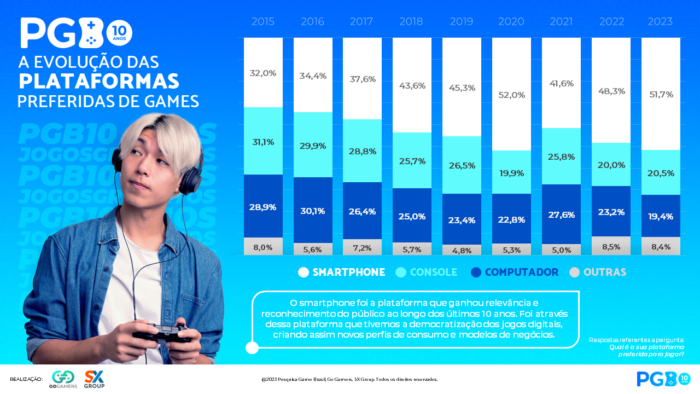 In the tenth edition of PGB, 70.1% of people who responded to the survey said they had fun playing some kind of game. This number represents a 4% drop compared to 2022.
The smartphone remained in the lead as the main platform for Brazilian games. Since 2015, cell phones are the national preference, ahead of consoles and PCs. In the most recent survey, 51.7% of players stated that they use the phone more for digital adventures. Systems such as Nintendo, Xbox and PlayStation were second with 20.5%, computers are close behind with 19.4%.
In the case of eSports, the research showed a knowledge on the part of the enthusiasts that draws attention. Of those interviewed, 82.9% know the term and its characteristics, such as teams, titles and championships. 48.8% said they participate in disputes in the branch. On the other hand, 72.1% said they had never received money in this modality, which shows that the sector still needs to develop further.
Gamer population is diverse
In the 2023 survey, the public that considers itself male corresponded to 53.8% of gamers, while the female audience was 46.2%. The largest amount of individuals are between 25 and 29 years old, followed by adults between 30 and 34 years old and those aged between 35 and 39 years old (myself included). Young people between 20 and 24 years old take the smallest slice among the interviewees.
The middle class (B2, C1 and C2) has 65.7% of Brazilian virtual game players. Class A citizens represent 12.3%. The upper-middle class (B1) takes 11.7% of the slice and classes D and E have 10.4%.
Finally, the diversity of gamers in Brazil remains a highlight. As in previous editions of Pesquisa Game Brasil, most people who consider themselves black or brown are 54.1%, while players who define themselves as white correspond to 42.2%.
With information: Search Game Brazil.