On Thursday (6), Amazon began sending notices to several sellers on its platform, in which it places the Flipper Zero as a "restricted" product. With that, the company started to ban the sale of the gadget, since it entered the category of "card skimming device". That is, it can be used to illegally copy data from magnetic tapes found on credit and debit cards. However, it does more than that.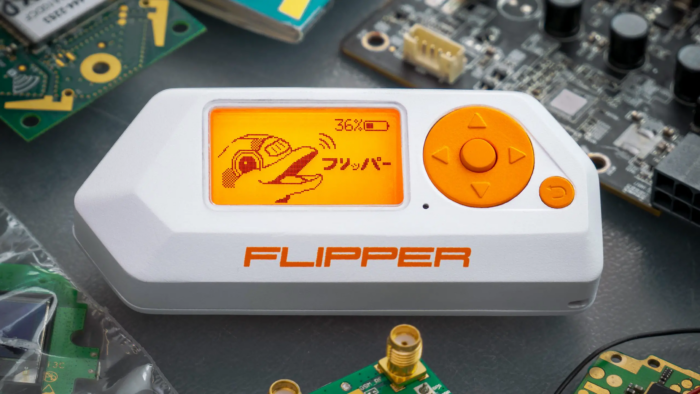 The product appeared in the hands of several TikTok users at the end of 2022. It promises to facilitate the use of pentesters (people who do invasion tests), as it can copy badges, cards and keys. Protocols such as RFID, radio frequency, NFC, infrared and Bluetooth are some examples of technologies that Flipper Zero can duplicate.
Due to its capabilities to allow the owner to commit various crimes, the gadget was banned by Amazon. That is, no seller can advertise the item for sale anymore. As a consequence, several links that previously sold the peripheral now contain information about "Page not found" on the platform.
It is worth remembering that Flipper Zero was sold by many as a "tamagotchi", but it cost US$ 200 (close to R$ 1,011). Anatel denied the certification of the object in March, however, it can be found for values ​​above R$ 5 thousand in other marketplaces.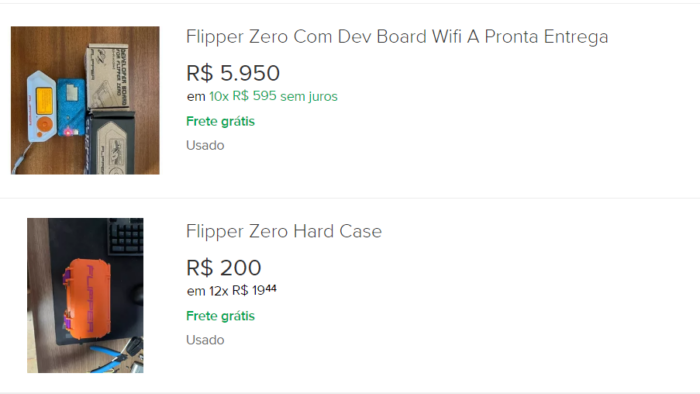 Content producers helped popularize the peripheral
Who developed the Flipper Zero was the duo Alex Kulagin and Pavel Zhovner. Since its debut on Kickstarter in 2019, more than 150,000 devices have reached users' hands.
However, what really helped the gadget to fall in favor with enthusiasts were the numerous publications on platforms such as YouTube and TikTok. Content producers demonstrated various facets and uses of the item, from cloning badges and AirTags to opening garage doors.
From this, Amazon decided to ban the object from its stores. She sent notifications to sellers who had the product listed for sale announcing the removal in general environment, as you can see in the image: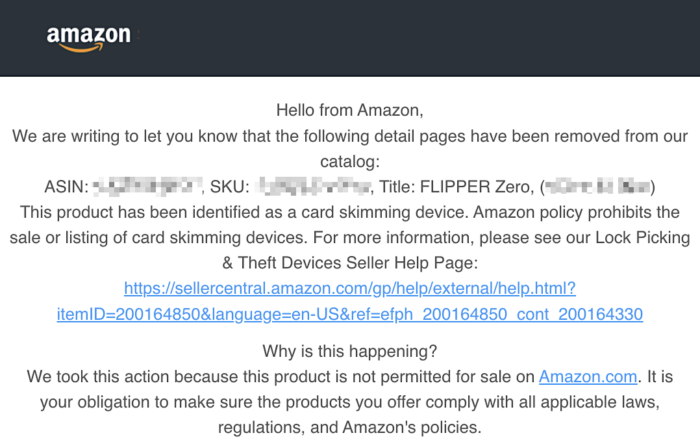 This product has been identified as a card skimming device. Amazon policy prohibits the sale or listing of card skimming devices. We took this action because this product is not permitted for sale on Amazon.com. It is your obligation to ensure that the products you offer comply with all applicable laws, regulations and Amazon policies.
Once the seller receives the above notice, he has 48 hours to remove any and all instances of the device from his stores. Otherwise, the individual may suffer the deactivation of their account on the platform.
With information: Bleeping Computer.